Life at & around UCLA
Subscribe to posts
First, I apologize for the infrequency of updates -- my 'free' time to write has been curtailed significantly by a host of new professional duties. From here forward, I expect/hope to post at least quarterly -- this entry is the Fall 2018 quarter's.
This quarter's post on cycling -- both for commuting and recreation -- was inspired in part by a recent article proclaiming LA as "the worst bike city in America." The article itself is a bit tongue-in-cheek and clearly intended to be provocative. It begins with perhaps the most important point, namely that LA has "all the ingredients to be the best city for cyclists in the entire United States," largely because of its 'Goldilocks' weather. In fact, after cycling in LA almost daily for about 18 months, I can attest that never -- not once! -- have I felt excessively cold or hot during a ride (most of which happen around dawn and dusk).
The main point of the article, however, is that the convergence of automobiles and cyclists in LA tends to favor cars in both custom and policy, thus making LA relatively less safe and inconvenient for cyclists. This essayist seems to agree wholeheartedly with this point of view. One of the major issues with cycling in LA relates to the disjointed network of bike lanes and paths throughout the city. In my case, most of my cycling happens on the Westside, which is shown in the following Google Maps screenshot with cycling route overlays.
What the map shows is that the paths to and from the beach (SW-NE lines) are quite direct and unimpeded, but that the orthogonal paths (NW-SE) are highly fragmented. For those riding to and from UCLA (typically in the NW-SE direction based on population density) reaching campus requires much planning and experimentation to find the most direct and safest routes.
Of course, this issue is well known, and many have tried (and begun) to address it, but for cyclists, a 90% solution is only marginally better than no solution at all. Nevertheless, those of us hoping for progress remain optimistic, particularly because a newer Westside resident is also a passionate cyclist (Dear Los Angeles: LeBron James is an avid cyclist. Please don't run him over).
One essential ingredient to progress is that political leaders must start to put action behind their stated principles. In this case and particularly with the dramatic proliferation of rented e-scooters, we need to be proactive and adaptive to innovations, especially those that obviously and dramatically decrease environmental pollution, gridlock, and climate change potential -- and we need to start locally so that we can first lead by example in the quest for broader changes nationally and globally. A good example of this type of local leadership is the Great Streets pilot project in my home neighborhood.
In addition to commuting, the LA/SoCal region offers tremendous opportunities for recreational cycling. For example, I recently made fishing pole attachments to my bike's rear rack, thus eliminating the time, expense, and emissions associated with driving to the beach and finding a parking spot (and also allowing much better mobility once I'm there).
Further outside LA proper, cyclists can find a wide range of great rides, for example along the coast toward Santa Barbara, as in the picture below.
In closing, while LA certainly has room to improve for cyclists, its weather and nearby attractions are amazing and relatively easy to access. For me, the move to LA resulted in a dramatic increase in cycling (mostly as a commuter), as indicated in
this 2018 summary montage video from my Strava feed
, and even better riding awaits in 2019 and beyond!
Los Angeles is a rich melting pot of cultures, backgrounds, and perspectives about life and liberty. Coming from experiences lived mostly in the middle of the country, I've been surprised by how the many ethnic cultures blend so well here. For example, I didn't initially realize that Los Angeles is home to the largest Persian community outside Iran.  And at the same time, LA boasts a vibrant Jewish community, many of whom also originate from Iran, called Mizrahi. Of course, greater Los Angeles is home to vibrant Asian communities – e.g., Koreatown, Little Tokyo, Chinatown, and Little Saigon; and a person cannot traverse far in Los Angeles without experiencing the richness of Hispanic and African-American culture. All these communities (and more) contribute unique elements to LA's civic culture, and in the timeless American tradition, they make the whole much greater than the sum of its parts, even with ups and downs along the way.
UCLA's campus is in many respects a microcosm of Los Angeles, particularly in the way that UCLA community members engage positively to enrich the campus culture. This synergy does not happen by accident, as apparent from the many examples of campuses that struggle with inclusiveness. A few clues to the success of UCLA (and most other UC campuses) can be found in how they proactively cultivate success for low-income students. For example, UC campuses are nearly the only examples of large, public universities in which the graduation rates of students who receive federal Pell grants are virtually identical to the general student population. The linked article highlights several systematic programs that promote student success. Moreover, my impression is that the general environment of inclusiveness – the simple but often elusive feeling of belonging – at UCLA and other UCs provides a broad and stable foundation that subdues many of the common anxieties of college life.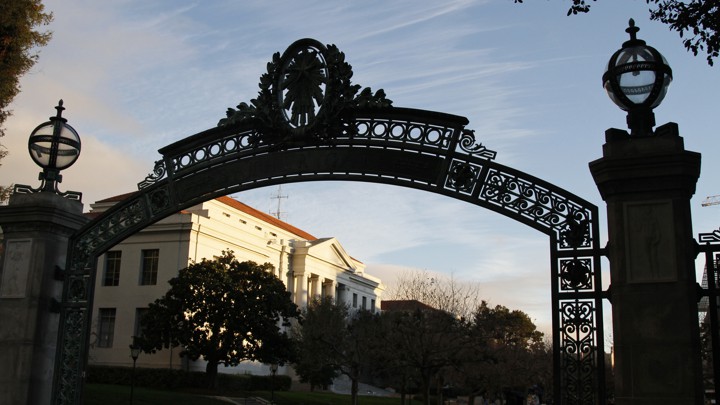 The success of the diverse UCLA student body clearly translates into the real world. The primary rationale for public higher education is to provide an engine for societal upward mobility. By this measure, UCLA and other UC campuses are clearly leaders, as documented in a recent study. When prospective and current students are made aware of this information, they become even more motivated to excel in their studies. Moreover, UCLA goes out of its way to highlight members of its community who are first-generation collegians such as in the recent profile of such UCLA faculty, including MAE's own Prof. Laurent Pilon:
But for all the benefits of inclusiveness on campus, one main challenge exists – and must remain. Specifically, universities must cultivate neutral ground for the free expression of all ideas from every perspective, except those that promote violence toward others in the community. Today's world, including segments of every community, includes some who promote hateful ideas that elicit thoughts of condemnation and even banishment from people who value inclusiveness. But we, as stewards of the neutral ground, should resist the temptation to banish (except under the threat of violence) while at the same time embracing our right to critique, and publicly condemn when warranted. Collectively, we must realize that the only durable antidote to hatred is kindness, with the corollary that exiling hateful ideas from the public square makes them grow in isolation, rather than shrink under the light of scrutiny and debate. My colleague Prof. Greg Carman pointed me to the following TEDx talk by Prof. Jeffrey Howard of Essex University that makes a compelling case for cultivating space for all points of view:
Finally, as contemporary public debates on the subject of immigration rage on, I have been thinking about my ancestors (mostly Germans) and their immigration experiences in the US. From this article, I was surprised to learn that, as the US Civil War began, the Secretary of War Simon Cameron ordered that all Union soldiers needed to be able to speak English. The great President Abraham Lincoln quickly rescinded the order and even allowed entire regiments of specific foreign language speakers (including German, in Blenker's 8th New York). The lessons here are many, but perhaps foremost among them are: (1) that new immigrants have often been willing to go to amazing lengths (even to die) to serve their adopted country, (2) yet at the same time, they also needed compassionate leaders to advocate for them in words and policy so that they could live the American Dream. So, in this true story, the Germans and other immigrants who survived the fighting proceeded to bless their adopted country in myriad ways; Lincoln is viewed as perhaps the greatest leader in US history; and Cameron and his short-lived, anti-immigration Know-Nothing party became merely an ignominious historical footnote.
(Note: I apologize for skipping a bi-monthly post, i.e., June. This summer has been rather busy with many new activities for me.)
A big change in university research over the past few decades has been the growth of undergraduate research. Historically, engineering undergraduates' time was consumed with a heavy course load of required classes with intense homework (and occasionally laboratory) exercises during the academic year, and most students went home for the summer, usually hoping to find work in a pre-engineering function with a local company. In the late 1980s, the US National Science Foundation started its "Research Experiences for Undergraduates" (REU)
program
, which has now proliferated across the country. I was fortunate to participate in one of the early REU sites at the Cornell Theory Center in the summer of 1989, and it gave me invaluable insights into academic research, ultimately leading to my decision to pursue graduate studies and a faculty career. Today, the NSF REU program has scores of formal "
REU Sites
" that seek to provide (mostly) summer research opportunities for students across the country. Here at UCLA, we have four REU Sites -- in math, physics, nano chemistry, and wireless technology. 
In my faculty career, summer undergraduate research has led to some of our lab's most prolific researchers. For example, current PhD student
Yuan Hu
started as an undergraduate researcher in a joint BS-MS program between Purdue and Shanghai Jiaotong University. Other alumni from our undergraduate researchers include:
At UCLA, the process for finding a project that matches student interest has been made much easier with the development of the centralized
Undergraduate Research Portal
. Here, students can find dozens of open research project descriptions for both the summer and academic year. My group is starting to populate the portal with new topics that will also be highlighted on this web site -- watch for them if you are interested!
This bi-monthly entry focuses on the many opportunities for volunteerism at and around UCLA. One of the most significant changes in moving from a rural university town to an urban area is the increased awareness of the needs, struggles, and aspirations of people in the community. A substantial reason for this change in perception is simply the difference in population density -- similar needs exist everywhere. I encourage all my students to strongly consider spending some of their time in volunteer work, and fortunately, UCLA offers a well organized
Volunteer Center
to help people plug in to such activities. Here, you can find a plethora of opportunities to serve, ranging from projects at local schools to support of at-risk youth. 
Typically a prospective volunteer will first think about needs -- as well they should. But in addition, my experience suggests that a good match between community needs and a person's skills (sometimes called 'gifts') is also very important. For example, if you speak a foreign language, perhaps a need exists to teach English to those who only know that foreign language. In my case, I've spent countless hours volunteering with sports at many levels -- e.g., I was the volunteer Assistant Assistant Baseball Coach at Cornell while I was pursuing my PhD (note: my advisor was overly kind to let me do so). Since then, I've coached youth baseball with my own children and also without them, just because I enjoy it so much. Here in LA, I'm expecting to volunteer with youth baseball in a nearby community. 
Another strong need exists for experienced mentors of undergraduates in extra-curricular activities. Many student clubs and organizations benefit greatly from experienced advisors. A significant but perhaps non-obvious example involves the Greek system, which seems to make news far too often for poor behavior. While mentoring will not eliminate all such problems, it certainly would help immensely. And I know from my own experience, as well as that of my sons, that fraternities can become very positive forces both for their members and those that they touch through outreach and volunteerism. For example, my two sons cycled across the continent (>3000 miles) to raise money for people with disabilities through their national fraternity's
Journey of Hope
. 
Lastly, innumerable other opportunities exist for direct off-campus volunteerism. Such opportunities are available at virtually any community center or religious organization in the local community. A personal favorite of mine is the
Westside Vineyard
. But regardless of whether or not the foregoing volunteer opportunities fit you, I hope that you'll find a way to give back to your local community. 
In this December 2017 entry, I provide some insights into living in LA for graduate students (and prospective ones who are in the midst of searching for a graduate program and locale that fits them). The post covers several important factors:
Where will I live?

How will I commute?

How much will it cost?

Is it safe?

Is it fun?

Should I even go to grad school?
Where will I live?
Students have myriad choices of where to live on LA's "Westside". I was surprised to learn that UCLA owns many apartment buildings throughout the Westside that it rents to graduate students and faculty. In fact, my house sits in a neighborhood (Palms/Mar Vista) with several of these apartments. Below is a picture of the apartment around the corner from my house. The accommodations are very nice and actually quite stylish.
One big benefit of living in an urban area — particularly one with such good weather — is that you can walk or bike to do almost anything. The picture below shows our neighborhood Trader Joe's grocery store (which has very competitive prices). The shopping is so convenient that we no longer make make prolonged grocery excursions; instead, we typically decide after the workday what we want for dinner, and then walk to pick up the ingredients.
How will I commute?
Even though LA is known as a car town, moving around the Westside absolutely does not require a car. In fact, I rarely drive at all — and never to work. Instead, I use a human-powered two-wheeler, aka the bicycle. My commute is 4-5 miles, and I can ride virtually every day because of the great LA weather. The commute takes 20-25 min, regardless of traffic — in fact, my downhill evening commute is typically faster than it would be in a car! Here's a picture of me heading home from work.
If you're not ready to push pedals, the mass transit options on the Westside are very good (and rapidly improving all across LA). For example, the bus in the picture below picks up at the Trader Joe's and makes its last stop 20-30 min later at the doorstep of the main UCLA Engineering complex (for 50 cents per ride with a UCLA ID).
How much will it cost?
UCLA, as well as all major universities located in urban areas, recognizes the financial strains of being a student while living in a relatively expensive area. UCLA's graduate stipends are set by a fixed scale available here. The idea is that students have a reasonable financial baseline with opportunity for increases as they gain more experience and credentials. Moreover, the university offers housing (see above) at relatively low rates — my graduate students tell me that most students pay $700-1200 per month for a shared apartment, depending on size and location. Further, UCLA provides generous subsidized rates for mass transit.
The big savings in comparison to rural universities derives from the ability to live without a car, which typically costs students more than $3000 per year in insurance, maintenance, fuel, and parking (not including car payments). When car payments are added, the total cost of owning and maintaining a car can easily exceed $5000 per year (i.e, roughly half the cost of housing — to me that's crazy!). Here at UCLA, you simply don't need a car for day-to-day activities, and for occasional excursions you can easily ride-share or rent. Because of the foregoing subsidies and conveniences, my sense is that the basic cost of living on the Westside for a graduate student is very similar to that at most other major research universities — urban or rural.
Is it safe?
Like any major urban area, residents need to take basic safety precautions such as locking doors. At the same time, Los Angeles generally has a lower crime rate than most other major US cities. Furthermore, LA's Westside, where UCLA is located, is one of the lowest-crime areas in the city, as shown in the crime map below (source: Trulia).
Is it fun?
Of course, LA is known to be one of the most interesting and beautiful places on earth, and its reputation is well earned. The weather here is almost always perfect — sunny and moderately warm. If you're thinking about graduate school, then your first priority should be to find a place where you can work toward your academic goals. At the same time, LA provides an ideal environment for those with a 'work hard / play hard' mentality.
The opportunities for entertainment and recreation abound in the area. I particularly enjoy outdoor activities and provide a few (of many, many) pictures that capture the lifestyle.
UCLA marina where you can rent sailboats and kayaks (Marina Del Rey).
Surfers at the beach near El Segundo
Hiking in the Santa Monica mountains
Should I even go to graduate school?
Only you can answer this question. All good graduate students in my experience are motivated by a strong inner drive to achieve something great through acquired knowledge. If you are unsure about grad school, this article might help.
In any case, if you've reached this far into the blog, I thank you for your time and attention, and convey my best wishes for your future.
If you've reached this page, then you probably already know that UCLA is a great institution. What you might not know is that, in the most recent set of overall institutional rankings in the US and globally, UCLA has emerged as the #1 public university in the United States: 
Of course, no single ranking can capture all the qualities and characteristics of a single institution, but the fact that these three rankings use quite different criteria and still place UCLA in the #1 spot among US public institutions is significant (note: as I was preparing this entry, US News & World Report released a separate "
Best Global Universities
" ranking, which places UCLA at #13 in the world and #3 among US publics; and 4 of the top 16 universities overall in this global ranking are from the University of California system!). 
In terms of engineering-specific rankings, UCLA does quite well (#16 in the
2018 US News and World Report graduate rankings for engineering
), although its relatively small size is a handicap in rankings -- but certainly not in reality. The main reason for this effect is that many college/school-level ranking systems use total research funding (regardless of program size) as a major criterion. However, this disadvantage in rankings becomes a big advantage in 
reality because students (and other faculty) are able to develop close relationships at UCLA with virtually all of a department's faculty members. My department (Mechanical & Aerospace Engineering) has
34 full-time faculty members
; in comparison, the large, highly ranked engineering programs in the US typically have three times this number of faculty in mechanical and aerospace engineering (which many divide into separate departments). I simply don't see the advantages of monstrous size other than for the purposes of ranking — but I do see many disadvantages.  I have visited all of the best engineering programs and am certain that the quality of faculty on a person-by-person basis at UCLA is good as anywhere in the world -- as a newcomer, I seem to learn something wonderfully new every day about my outstanding faculty colleagues. As a testament to this quality, I recently learned an amazing fact about UCLA engineering (see the paid version of the USNWR link above): the percentage of UCLA engineering faculty members in the US National Academy of Engineering is the 2nd highest in the country (behind only Princeton -- also a school whose small size adversely affects its engineering rankings). 
Finally, you might wonder whether the distinction between public and private universities is relevant. Certainly the distinction is not important to everyone, but it is to me. My sentiments on this topic are well captured in a
recent paper about UC-Berkeley and the UC system
: "[The faculty's desire to stay] comes from the sense and satisfaction about being a public university, and certainly an engine of upward mobility. That's a source of great pride." I wholeheartedly agree with this statement. Most public universities (with the University of California system as the exemplar) go out of their way to be "engine[s] of upward mobility" for society. At UCLA, this orientation motivates us to seek out excellent students from less privileged backgrounds, for example
 by intentionally structuring our curricula to welcome transfer students. In contrast, many other universities (both private and some public) make transferring into their engineering programs almost impossible, reasoning that their classes are too unique and specialized even at the beginning of the curriculum. Regardless of your personal opinion on this issue, I hope you'd agree that
at least some
of our great universities should be the "engine[s] of upward mobility" for such wonderfully talented students -- UCLA certainly is, and I'm proud of it!